Original Logosol moulding knives for your planer/moulder
For the highest quality, use original Logosol moulding knives. A good assortment of knives is an important factor if you want to make a profit on your planer/moulder. Being able to deliver exactly the moulding the customer wants is often the key to the really profitable business. We are constantly designing new standard knives. Here at Silvana we have hundreds of catalogue knives in stock. We have new shipments of knives each week, but if you are in a rush for an out-of-stock or custom knife, there is an express service available. Call or email us for more information.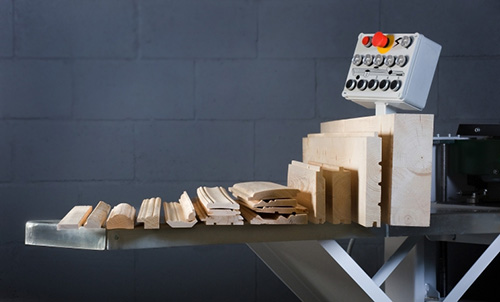 Limitless Logosol Catalogue Knives

Knives are the most important pieces of your planer/moulder. The whole machine is designed to make the knives work for you! Logosol has a vast range of original knives to meet your every planing and moulding need – over 500 catalogued designs: tongue and groove, baseboard, crown moulding, log cabin beams, siding, etc. For the highest quality, use original Logosol moulding knives.

View Logosol's moulding knife catalogue here
Recommended packages

With so many quality moulding knives available, Silvana thought you might appreciate a simplified selection process offered by key packages and kits we've put together, based on our years of experience working with these products. Conforming to industry standards – and using original Logosol moulding knives – they're designed to get you into more profitable production across a broad range as rapidly as possible.
Custom-made moulding knives

If you don't see exactly what you're looking for we'll also produce any custom profile you need. Just send us a drawing by fax, post, or email – or even send us a wood sample – and we'll design and manufacture knives for your exact needs. Custom knives are made of the same quality high speed steel as our original Logosol catalogue knives, and are produced using fully automatic laser cutting machines.
Cutters and Clamping Gibs

Logosol provides a full range of moulding knives, cutters, blades, end mills and cutting tools for those who work with wood.